School Uniform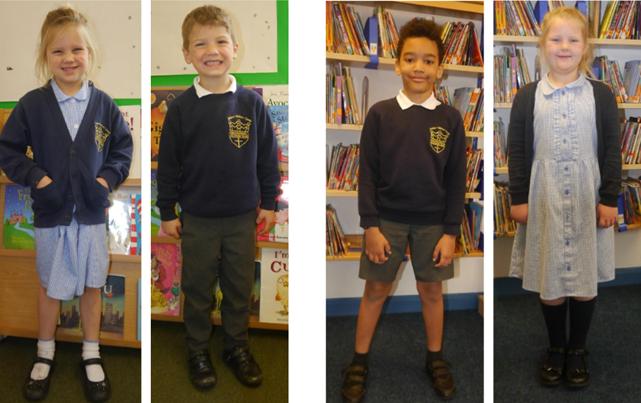 This is a great example of what uniform children should be wearing to school.
The expectation is to wear the following uniform:
- White polo shirt
- Navy school cardigan/sweatshirt/fleece
- Black or grey trousers/shorts
- Navy or grey skirt/pinafore/trousers and blue and white summer dress
- White/grey/navy socks or tights
- Black school shoes (low heeled)
- Hair bands and scrunchies only (navy/white/yellow/gold)
PE Kit
The expectation is to wear the following for PE activities:
- navy shorts
- School house colour T-shirt
- trainers or plimsoles
- dark blue/black track suit or jogging bottoms/sweatshirt for when it is cold
Additional items
Other items that can be purchased are:
- Book bags
- PE bag
- Water bottles
- Sun hat
We are asking that children, where possible, do not wear jewellery to school. Those children who have their ears pierced may wear stud earrings only and these must be removed/covered with tape for PE sessions. Necklaces and bracelets are not allowed for safety reasons.
We also ask that children do not wear nail varnish and that hairstyles are neat and tidy for school. Long hair must be tied up at all times.
Please remember to label all items.
Uniform may be purchased online from Riviera School Days using the link below:
186 Union Street (opposite the Magistrates Court)
Torquay
TQ2 5QP
Tel: 01803 293650